As of June 3, 2019, Freddie Mac in conjunction with Fannie Mae will offer Supers. Freddie Mac TBA-eligible Giant PCs are eligible for exchange into Supers beginning May 7 or investors can purchase newly issued Supers beginning June 3.
Product Overview
Supers are single class resecuritizations of UMBS, which are 55-day TBA-eligible securities. Each Supers security will be issued and guaranteed by either Fannie Mae or Freddie Mac. Supers can be backed by:
UMBS or other Supers (either issuances of one Enterprise or a commingling of issuances of both Enterprises) and/or
Existing TBA–eligible MBS and/or Megas issued by Fannie Mae and/or
Legacy TBA-eligible PCs and/or Giant PCs issued by Freddie Mac that have been exchanged and pay on a 55-day delay schedule.
Supers are pass-through securities, each representing an undivided interest in a pool of residential mortgages. Freddie Mac and Fannie Mae offer traditional 30-year fixed-rate Supers in addition to 20-year, 15-year, and 10-year securities.
Supers differ from U.S. Treasury securities and other fixed-income investments in two ways. First, they can be prepaid at any time since the underlying mortgages can be paid off by homeowners prior to a loan's maturity. Mortgage-backed securities generally provide a higher nominal yield than certain other fixed-income products due to this implicit call option. Second, Supers are not backed by the full faith and credit of the United States, as are U.S. Treasury securities. However, Freddie Mac guarantees the timely payment of interest and principal on all Supers. Supers feature a payment delay of only 55 days from the time interest begins to accrue and the time the investor receives a payment.
Commingled Supers
UMBS pass through collateral, new issue or exchanged UMBS and Supers issued by either Agency may be commingled to back Supers issued by either Agency.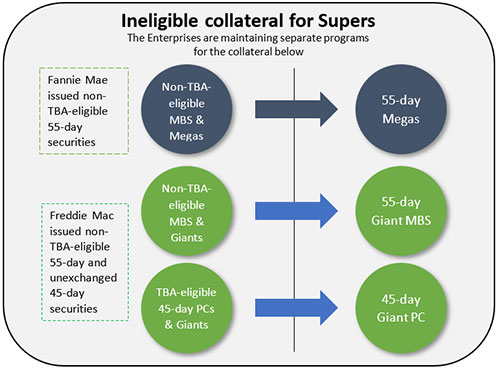 Formation Guidelines:
Additional Resources
---
This product overview is not an offer to sell or solicitation of an offer to buy any Freddie Mac securities. Offers for any given security are made only through applicable offering circulars and related supplements, which incorporate Freddie Mac's Information Statement and related supplements.