Real Estate Mortgage Investment Conduits (REMICs) feature customized structuring of mortgage pass-through securities to redistribute cash flows. Freddie Mac offers a variety of REMIC products, working closely with dealers and investors to tailor the security cash flows to meet a variety of investment needs.
Product Overview
Freddie Mac has a strong history as an industry leader and pioneer through its REMIC program. Driven by a commitment to satisfying evolving market demands, efficient processes and superior service through the life of an investment, Freddie Mac's REMIC program is successful because it is customer-focused. The highly experienced dealers in Freddie Mac's REMIC Dealer Group serve as quality underwriters and liquidity providers of REMIC products.
What is a REMIC?
REMICs, created by the Tax Reform Act of 1986, are multiclass, mortgage-backed securities in which cash flows from the underlying mortgage assets are allocated to individual bonds, called tranches, with different maturities, coupons and payment priorities thereby allowing greater flexibility in structuring bond classes. REMICs are sometimes referred to as CMOs, or Collateralized Mortgage Obligations. Freddie Mac began issuing REMICs in March 1988 and issued the first REMIC backed by Gold PCs in October 1990.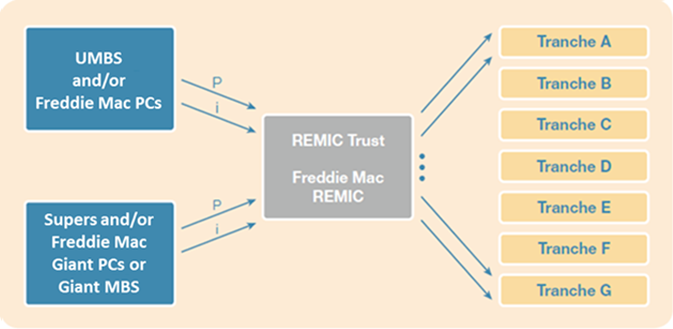 Commingling of UMBS
Beginning in June 2019, Freddie Mac began offering investors the option to commingle UMBS & Supers issued by either Freddie Mac or Fannie Mae (the Enterprises) and to deliver those into a Freddie Mac REMIC.
UMBS & Supers collateral for REMICs issued by Freddie Mac.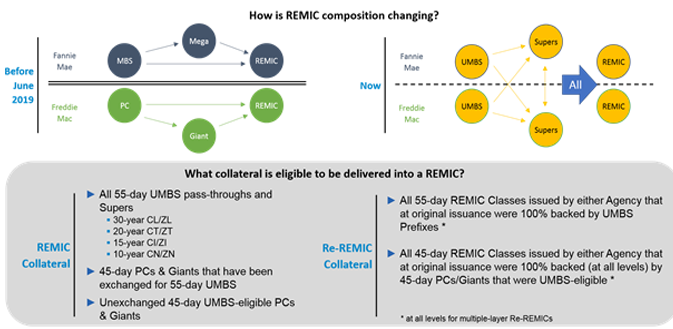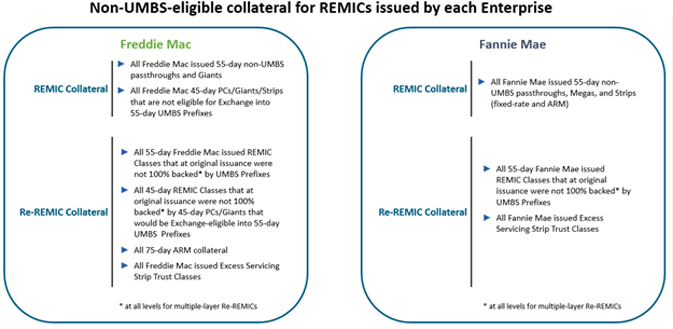 ---
This product overview is not an offer to sell or solicitation of an offer to buy any Freddie Mac securities. Offers for any given security are made only through applicable offering circulars and related supplements, which incorporate Freddie Mac's Information Statement and related supplements.