Single-Family Green Bonds
Freddie Mac is a mission-driven company – providing liquidity, stability and affordability to the U.S. housing market is what we do best. Our sustainability strategy strengthens our commitment to our mission and helps us drive long-term value for our stakeholders while making a difference in our communities. Improving the energy efficiency of homes may provide savings to our borrowers, increase the value of homes and positively impact our environment.
Single-Family Green Mortgage-Backed Security (MBS)
Freddie Mac is a leader in mortgage finance that supports the growing market for energy efficient single-family homes. Freddie Mac's Single-Family Green MBS issuance is a natural extension of our role in providing standards and scale to the nation's housing markets.
The 2022 Single-Family Green MBS Impact Report provides estimates of the beneficial environmental impact, including greenhouse gas emission reduction and energy savings, associated with purchase and refinance loans securitized under the Green MBS program. The 2022 Green MBS Estimated Impact File also provides estimated impact data related to each security issued under the Green MBS program.
Overview of Collateral
Freddie Mac Single-Family Green MBS supports our company's focus on financing energy efficiency in new and existing single-family homes, helping to preserve home affordability over time.
As described in our Single-Family Green Bond Framework , eligible collateral for Single-Family Green MBS includes:
Homes with Renewable Energy
Freddie Mac GreenCHOICE Mortgages® where borrowers used refinance proceeds to finance energy efficient home improvements. Specifically, the proceeds or portion thereof from each refinanced mortgage paid off existing debt that was used to finance the purchase and installation of a renewable energy source such as solar panels.
Mortgages backed by newly constructed homes with a renewable energy source
Eligible renewable energy sources include solar and geothermal. Benefits of renewable energy include:
Generating energy that produces no greenhouse gas emissions from fossil fuels and reduces some types of air pollution
Diversifying energy supply and reducing dependence on imported fuels
Creating economic development and jobs in manufacturing, installation, and more
Homes with an Energy Efficiency Rating
Mortgages backed by newly constructed homes with a Home Energy Rating System Index score of 60 or less
The Home Energy Rating System (HERS) Index was created and is maintained by the Residential Energy Services Network (RESNET) to measure a home's energy efficiency. The HERS Index is an industry standard for measuring a home's energy efficiency and is recognized by the U.S. Department of Energy and the Environmental Protection Agency. As of July 2021, over three million homes in the United States have been issued a HERS Index Score.
The process for obtaining a HERS Index Score includes a certified RESNET HERS Rater assessing the energy efficiency of a home and assigning it a relative performance score. The lower the number, the more energy efficient the home. The U.S. Department of Energy has determined that a typical resale home scores 130 on the HERS Index while a home built to the 2006 International Energy Conservation Code is awarded a rating of 100. A home with a HERS Index Score of 60 is roughly 40% more energy efficient than the reference home (refer to figure 1).
Figure1: RESNET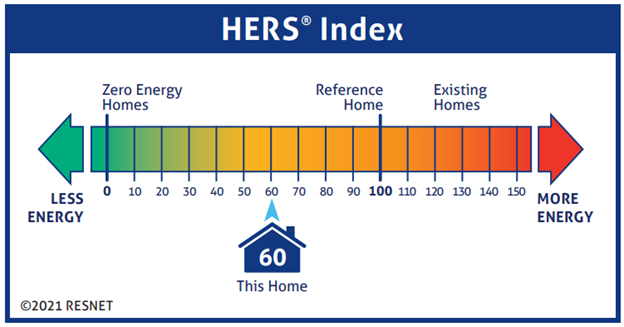 Freddie Mac Single-Family Green MBS have not been designed to satisfy the environmental, sustainability or other "green" criteria of any third-party framework, other than as described in the Single-Family Green Bond Framework and the CICERO opinion.
CICERO Shades of Green is an independent organization that provides second opinions on institutions' frameworks and reviews of green bonds. The CICERO opinion is not a guarantee that the Green MBS satisfy your "green" investment needs or criteria, is not a recommendation to buy, sell or hold Green MBS described in the Single-Family Green Bond Framework, is only current as of the date of its issuance and is only applicable to the Single-Family Green Bond Framework.
Please see our UMBS and MBS Offering Circular for more information on the risks of an investment in Green MBS.
Beginning with issuances in January 2022, Single-Family Green MBS may include a combination of eligible collateral as described in the Single-Family Green Bond Framework.
The list below highlights our latest pools issued as part of our Single-Family Green MBS Program.
| CUSIP | Security Identifier | Prefix | Issue Date | Issuance Investor Security UPB |
| --- | --- | --- | --- | --- |
| 3142GQBQ4 | RJ0046 | CL | 10/1/2023 | $14,165,764 |
| 3142GQBS0 | RJ0048 | CL | 10/1/2023 | $28,038,230 |
| 3142GQBT8 | RJ0049 | CL | 10/1/2023 | $56,944,321 |
| 3142GQBU5 | RJ0050 | CL | 10/1/2023 | $49,888,554 |
| 3142GQBV3 | RJ0051 | CL | 10/1/2023 | $38,143,051 |
| 3142GQBW1 | RJ0052 | CL | 10/1/2023 | $17,168,135 |
Click here to download the full Issuance File
This is not an offer to buy or sell any Freddie Mac securities. Offers for any given security are made only through applicable offering circulars and related supplements, which incorporate Freddie Mac's most recent Annual Report on Form 10-K filed with the Securities and Exchange Commission (SEC); all other reports Freddie Mac files with the SEC pursuant to Section 13(a) of the Securities Exchange Act of 1934 (Exchange Act), excluding any information "furnished" to the SEC on Form 8-K; and all documents that Freddie Mac files with the SEC pursuant to Sections 13(a), 13(c) or 14 of the Exchange Act, excluding any information "furnished" to the SEC on Form 8-K.
The financial and other information contained on this page and in the documents that may be accessed on this page speaks only as of the date of those documents. The information could be out of date and no longer accurate. Freddie Mac undertakes no obligation, and disclaims any duty, to update any of the information in those documents.
These materials may contain forward-looking statements. Forward-looking statements involve known and unknown risks and uncertainties, some of which are beyond the company's control. Management's expectations for the company's future necessarily involve a number of assumptions, judgments and estimates, and various factors could cause actual results to differ materially from the expectations expressed in these and other forward-looking statements. These assumptions, judgments, estimates and factors are discussed in the company's most recent Annual Report on Form10-K, and its reports on Form 10-Q and Form 8-K, which are available on the Investor Relations page of the company's Web site at www.FreddieMac.com/investors and the SEC's website at www.sec.gov. The company undertakes no obligation to update forward-looking statements it makes to reflect events or circumstances occurring after the date of this page.
Certain information contained in documents that may be accessed on this page is provided by third parties. Freddie Mac makes no representations or warranties with respect to any such information and takes no responsibility for supplementing, updating or correcting any such information.