Regulatory Information
| May 25, 2023
How to Download Loan Level Files in the EU Template
Reference Pool disclosures are now available in EU format via Clarity Data Download. Please refer to our EU Resource website for more information on the relevant EU regulations, EU template mapping to our existing loan level disclosures and explanations and other helpful resources.
Steps to Download the Loan Level Files in the EU Template:
Log in via the webpage on the credit risk transfer (CRT) website.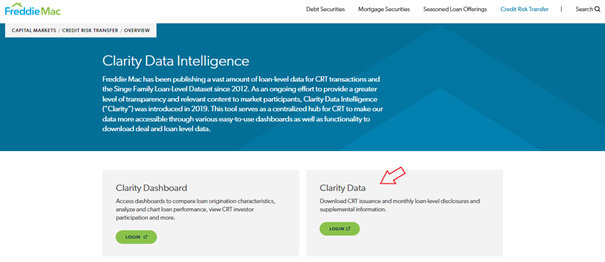 After logging into Clarity, click on "Loan Level Download" in the upper right-hand corner.

Download the desired files using the "Current Reporting Period Download" or "Custom Download."

For issuance, EU format is available starting with STACR 2023-DNA1. We also make the EU template format available via deal roadshow during the marketing period.
For ongoing, the EU format is available for all outstanding STACR deals in an aggregated file for the current reporting period.