Updated as of November 2022
Since 2021, Freddie Mac has exercised its 5-Year ACIS call option to wind down over $1 billion in out-of-the-money coverage and save over $100 million in future premium spend.
Freddie Mac retains sole discretion over whether or not to exercise any call options and the timing thereof, which may be impacted by market conditions, business objectives and regulatory approvals. As such, the information contained herein does not guarantee the timing of any future exercise of the call option by Freddie Mac. The information presented herein is for informational purposes only.
Freddie Mac may exercise call options on STACR and ACIS deals, as specified in the applicable private placement memorandum and/or offering documents, and will determine when to exercise based on business objectives which may consider capital relief, cost, and other factors.
Freddie Mac is committed to transparency and keeping the CRT community informed. Please email [email protected] with any questions.
Call Rationale Illustration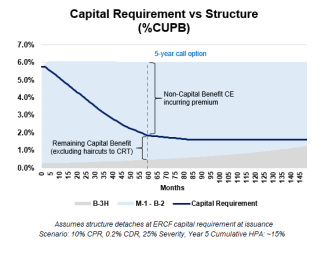 Call Options Exercised
STACR
| Deal Name | Deal Closing Date | Deal Maturity Date | Date Exercised |
| --- | --- | --- | --- |
| STACR 2014-HQ1 | 8/11/2014 | 8/25/2024 | 5/25/2022 |
ACIS
| Deal Name | Policy Effective Date | Policy Maturity Date | Date Exercised |
| --- | --- | --- | --- |
| ACIS 2017-HQA3 | 10/18/2017 | 4/25/2030 | 10/25/2022 |
| ACIS 2017-DNA3 | 10/4/2017 | 3/25/2030 | 10/25/2022 |
| ACIS 2017-HQA2 | 6/20/2017 | 12/25/2029 | 6/25/2022 |
| ACIS 2018-SAP1 | 4/4/2018 | 10/25/2025 | 4/25/2022 |
| ACIS 2017-DNA2 | 4/11/2017 | 10/25/2029 | 4/25/2022 |
| ACIS 2017-DI01 | 3/1/2017 | 12/25/2027 | 3/25/2022 |
| ACIS 2017-HQA1 | 2/22/2017 | 8/25/2029 | 2/25/2022 |
| ACIS 2017-DNA1 | 2/7/2017 | 7/25/2029 | 2/25/2022 |
| ACIS 2016-SAP2 | 11/1/2016 | 5/25/2024 | 11/25/2021 |
| ACIS 2017-SAP1 | 5/1/2017 | 11/25/2024 | 5/25/2021 |
| ACIS 2016-SAP1 | 4/25/2016 | 10/25/2023 | 4/25/2021 |
Potential Upcoming Call Options
Includes deals that may become eligible for call within the next 12 months based on term or current reference pool factor below 15% as of posting
STACR
| Deal Name | Deal Closing Date | Legal Maturity Date |
| --- | --- | --- |
| STACR 2015-HQ1 | 3/31/2015 | 3/25/2025 |
| STACR 2014-DN3 | 8/11/2014 | 8/25/2024 |
| STACR 2015-DN1 | 2/3/2015 | 1/25/2025 |
| STACR 2014-DN4 | 10/28/2014 | 10/25/2024 |
| STACR 2015-HQA1 | 9/28/2015 | 3/25/2028 |
ACIS
| Deal Name | Policy Effective Date | Policy Maturity Date |
| --- | --- | --- |
| ACIS 2017-HRP1 | 12/13/2017 | 6/25/2030 |