Podcasts
| September 14, 2021
CRTcast E3: Breaking Down Structured Finance with Credit Suisse

Mike Reynolds, Vice President of Single-Family Credit Risk Transfer (CRT), talks with Dan King, Managing Director at Credit Suisse, about the role of investment banks in bringing new CRT transactions to market. Learn about the strategy behind deal structure and the complexities of investor appetite and placing new deals.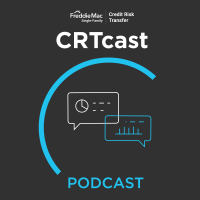 Breaking Down Structured Finance with Credit Suisse
Freddie Mac CRTcast is a new series within the "Home Starts Here" podcast, focusing on credit risk transfer and its three spokes: securities, (re)insurance and mortgage insurance. In the third installment, Mike Reynolds and Dan King, Managing Director at Credit Suisse, discuss the role of investment banks in structured finance.
About Credit Suisse
Credit Suisse is one of the world's leading financial services providers. Their strategy builds on Credit Suisse's core strengths: its position as a leading wealth manager, its specialist investment banking capabilities and its strong presence in our home market of Switzerland. They seek to follow a balanced approach to wealth management, aiming to capitalize on both the large pool of wealth within mature markets as well as the significant growth in wealth in Asia Pacific and other emerging markets, while also serving key developed markets with an emphasis on Switzerland.
---
Disclaimer
The information presented in this recording is not an offer to sell any Freddie Mac securities. This recording may contain forward-looking statements. Forward-looking statements involve known and unknown risks and uncertainties, some of which are beyond the company's control. Management's expectations for the company's future necessarily involve a number of assumptions, judgments and estimates, and various factors could cause actual results to differ materially from the expectations expressed in these and other forward-looking statements. The company undertakes no obligation to update forward-looking statements it makes to reflect events or circumstances occurring after the date of this press release.
The financial and other information contained in this recording are only as of the dates stated or shown. The information could be out of date and no longer accurate. Freddie Mac undertakes no obligation, and disclaims any duty, to update any of the information in those documents.