Podcasts
| March 31, 2022
CRTcast E5: Syndication's Role in New Issue CRT

Christie Tintle, Managing Director and head of Wells Fargo Securities' Asset-Backed Finance Syndicate Team, joins Mike Reynolds, VP of Single-Family Credit Risk Transfer, to discuss what it means to be the head of the syndicate desk for asset-backed finance and its role in the CRT market. Christie and Mike dive into the state of the market, dynamics of newly issued CRT and the book building process. Christie and her team are responsible for the syndication of new issue transactions across the ABS, CLO, CMBS and Non Agency RMBS spectrum which as of 2021 was in excess of 285 transactions annually.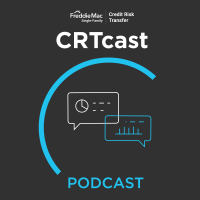 Syndication's Role in New Issue CRT
Mike Reynolds
Freddie Mac CRTcast is a new series within the "Home Starts Here" podcast, focusing on credit risk transfer and its three spokes: securities, (re)insurance and mortgage insurance. In this first installment of 2022, Mike Reynolds and Christie Tintle, Managing Director at Wells Fargo, discuss the role of the syndicate desk and the overall CRT market.
About Wells Fargo
Wells Fargo's Asset-Backed Finance ("ABF") group provides direct structured lending in addition to the underwriting and distribution of asset-backed securities for clients who access the bond markets through securitizations. ABF provides services in a broad range of asset classes, including asset-backed securitization and lending, corporate debt finance, and mortgage finance and RMBS securitization.
---
Disclaimer
The information presented in this recording is not an offer to sell any Freddie Mac securities. This recording may contain forward-looking statements. Forward-looking statements involve known and unknown risks and uncertainties, some of which are beyond the company's control. Management's expectations for the company's future necessarily involve a number of assumptions, judgments and estimates, and various factors could cause actual results to differ materially from the expectations expressed in these and other forward-looking statements. The company undertakes no obligation to update forward-looking statements it makes to reflect events or circumstances occurring after the date of this press release.
The financial and other information contained in this recording are only as of the dates stated or shown. The information could be out of date and no longer accurate. Freddie Mac undertakes no obligation, and disclaims any duty, to update any of the information in those documents.