Disclosure Guides
| May 27, 2021
May 27, 2021 Enhancements
Delinquency Matrix and Transition Matrix — 24-Month Look Back
Select from 24 historical months within the Delinquency Matrix and Transition Matrix dashboards.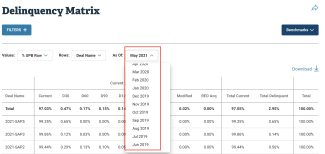 Delinquency Dashboard — Download Current or All Periods
Choose to download the data for only the current period or for all periods.
CRT Program Overview Dashboard — Data Download
Download the total STACR and ACIS reference pool and deal size data by issuance year from the CRT Program Overview dashboard on the Clarity homepage.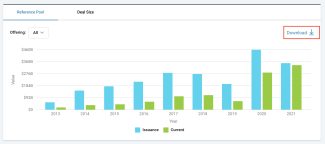 Global — Show and Hide Tables and Charts
Dashboards that include charts and tables have expand/collapse options sections to provide greater visibility when filtering data.